In the 1950s, many artists began to use the discarded scrap of the flourishing commercial culture to make sculptures. The art of blending was born.
The flow of mass-produced material goods that have fueled their various assemblies continues. But, it has long been joined by something more evanescent, less bodily – a torrent of information from words and images that is transported today in the roaring digital bitstream.
Nothing high-tech characterizes Xavier Cázares Cortéz's lively installation currently at UC Riverside Culver Center of the Arts. In fact, it's quite the opposite: six low square pedestals and five two-tiered high tables are loaded with thousands of ordinary objects: bottle caps, pencils, broken toys, spectacle frames, coins. coins, plastic utensils, scissors, rings and much more. . A crowd of domestic wrecks, it is as if a huge garbage drawer in the kitchen has been ransacked, thrown to the ground and laid out for inspection.
Yet, "Fingers crossed, just in case," as the work calls it, doesn't look like an old-fashioned assemblage display. Cortéz sorted the mundane wares by color, organizing the items on pedestals and tables like pencils in a box – blue here, yellow there, plus red, hot pink, black, metallic (silver, copper, and gold) and so on. following. In a gallery paper, he compared chromatic recklessness to Color Field painting, and indeed the organizational motif swallows up any tendency to read objects as a narrative subject.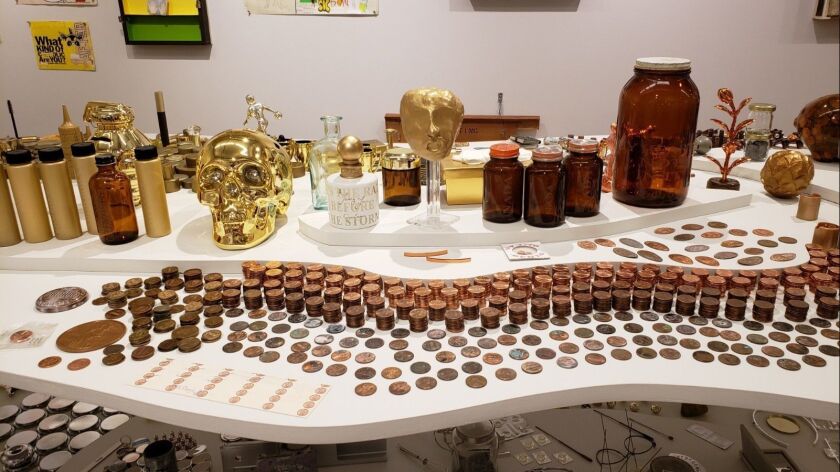 While similarly sifted junk by British sculptor Tony Cragg once created 1980s pictographs that evoke treasure hunts along the beach to trigger personal memory, Cortéz's is vaguely anthropological. Each set is proof of what makes us human.
The perimeter walls are lined with simple collages and crude assemblages that, like the tabletop displays, appear to have been made of materials torn from the swirling maelstrom almost at random. Cortéz applied standard museum methods of collection, cataloging and presentation. Every object and fragment becomes something worth careful consideration, whether it's a broken lighter or a shard of colored glass, depending on your genuine interest or your passing whim.
Each object is an idiosyncrasy. It's just junk, but it's weirdly personal, intimate. The square pedestals on the floor lend formality, while the organic shapes of the tiered tables enhance unforced naivety. The result is an organized chaos of absurdity.
The emblem of this alluring exhibit could be a shark, which indeed returns several times – a rubber toy here, a banner there, a collage or a drawing in between. Many sharks survive by swimming constantly, with oxygen-rich water flowing over their gills to allow them to breathe. As a metaphor for survival in a disorienting era of relentless digital information that can be both invigorating and overwhelming, it seems right.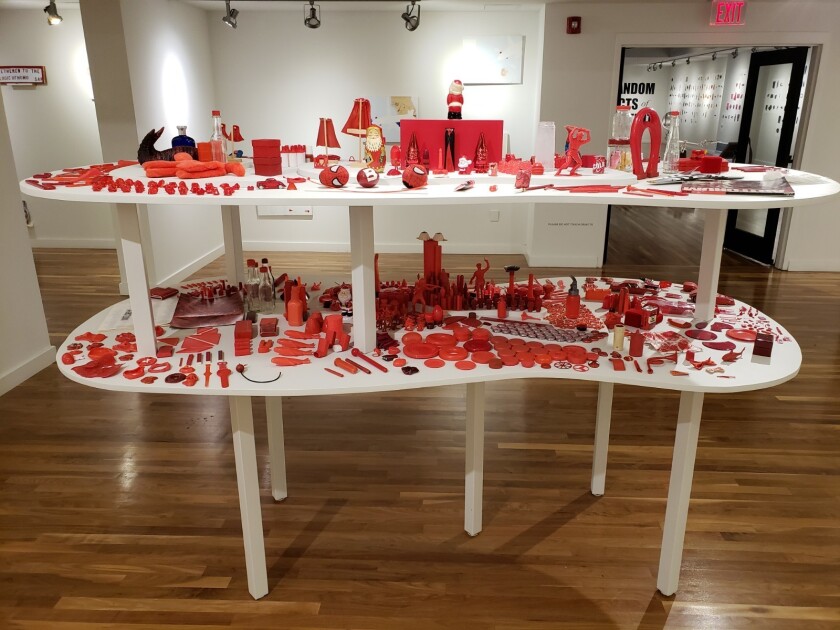 Barbara and Art Culver Center of the Arts at UC Riverside, 3834 Main Street, Riverside. Until August 19; closed on Mondays. (951) 827-4787, www.artsblock.ucr.edu
Twitter: @ChevalierLAT